The Biostar Handbook collection now includes five volumes of straight-up, no-nonsense data analysis from the trenches!
What's new:
March 2023: The Biostar Workflows has been expanded . Added the 10-minute RNA-Seq chapters.
Past changes:
All new content is always included with the subscription.
---
December 1st, 2016: Original Announcement
Announced almost 18 months ago, the Biostar Handbook has now been published. It delivers simple, concise, and relevant information for those looking to understand the field of bioinformatics as a data science.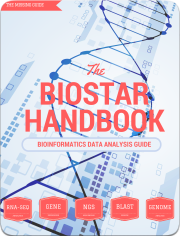 It is a comprehensive, practical handbook that aims to cover (though it is not quite there yet) all major application areas of bioinformatics.
Special thanks go to Biostar users GenoMax , shenwei356 and Jeremy Leipzig who have contributed entire pages or sections to the book.
Only now that the book released - as I am looking at 713 pages of do I start to realize just how big Bioinformatics has gotten in the past few years. And we're still missing entire subdomains of it: Metagenomics, Assembly, ChIP-Seq. But fear not we'll handle those too in this coming year.
Spread the word, let others know - I think there is no other resource like it. I like to call it data analysis with attitude, where reproducibility means not following letter by letter, but doing it better, faster and simpler.
Let me invite anyone that wishes to contribute to do so. It is easy, and simple, Markdown based publishing. And there is so much more that could be done and will be done. Be a part of it! We are independent, self published, self supported. Chart your own course, bring your own ideas and goals to fruition or just enjoy being a part of a creative process.