Question:
ChIP-seq Input replicate correlation
3.3 years ago by
Sweden
Hello everyone,
I have ChIP-seq samples with replicates for the same experiment. I have processed ChIP-seq as follows,
Steps done:
Bowtie and Bowtie2 (50 bp read length, used both outputs for further processing)
picard (duplicate removal)
NGSUtils (BAMutils, clean with Black list and MAPQ 30)
Deeptools (fingerprint, BAMsummary and correlation)
Query:
I am planning to do peak calling using this replicate samples (2 x treatment and 2 x Input) with MACS2. But when I check the correlation (pearson) between Input replicate samples (S1), it gives 0.61 (highlighted with box) unlike in treatment replicates it was above 0.85 [refer attached figure below].
Is it fine to consider S1_InputR1 and S1_InputR2 as replicates when doing peak calling with MACS2 ? [refer attached figure below]
Please give some suggestion.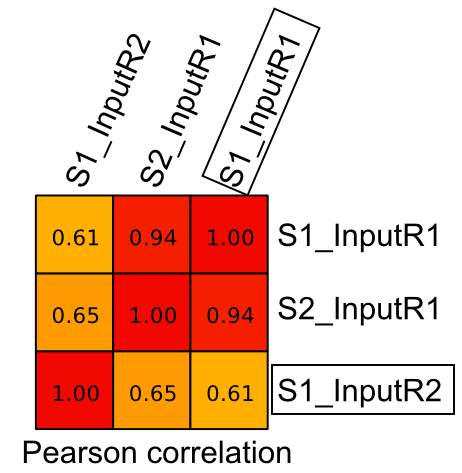 ADD COMMENT
•
link
•
modified 3.3 years ago by Ian ♦ 5.7k • written

3.3 years ago

by EagleEye ♦ 6.7k