Question:
Abnormal outcome when re-analyzing GEO microarray data?
3.3 years ago by
Dear all,
When I re-analyzed several data sets, I got 0 significant genes regarding the adjusted p-value (Benjamini-Hochberg correction). The adjusted p-values of these data sets are close to 1, but the original papers stated they found significant results.
There are more than one cases but I hereby provide one example with GSE23518 using GEO2R:
GEO2R options: Late stage vs early stage cancer. Benjamini & Hochberg correction. Log transformation. Typical gene expression analysis as implemented in limma package.
The results: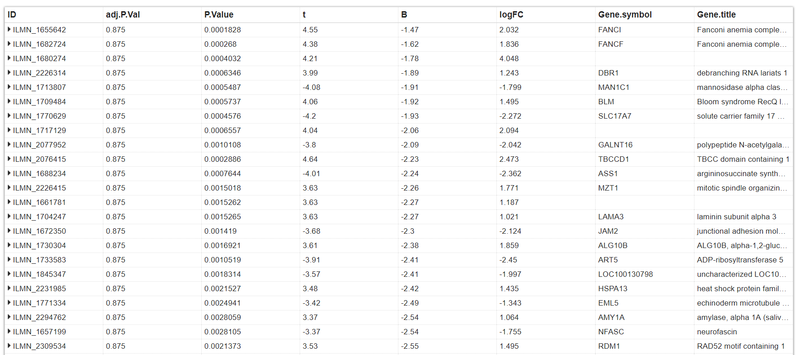 As you can see, the adj.P.Vals are much more than the acceptance criterion.
When I download the data set using GEO2R package, perform RSN normalization with lumi package:
library(lumi)
example.lumi <- lumiR('fileName.txt')
lumi.N.Q <- lumiExpresso(eset$fileName_series_matrix.txt.gz, normalize.param = list(method='rsn')) # background correction, variance stabilizing transform method, and normalization.
lumi.N.Q
# quality control after normalization
summary(lumi.N.Q, 'QC')
# output the data as txt file
write.exprs(lumi.N.Q, file = 'processedExampledata.txt')

and analyze the results using either limma package, I got the similar result: 0 differentially expressed gene.
If possible, please let me know where did I get lost. Thank you.
ADD COMMENT
•
link
•
modified 3.3 years ago • written

3.3 years ago

by BioMed • 40