DNA Methylation Data Analysis
How to use bisulfite-treated sequencing to study DNA methylation

Link: DNA Methylation Workshop
When? November 29 - December 1, 2017
Where? PC-College, Stresemannstraße 78, 10963 Berlin, Germany
Scope and Topics
The purpose of this workshop is to get a deeper understanding of the use of bisulfite-treated DNA in order to analyze the epigenetic layer of DNA methylation. Advantages and disadvantages of the so-called 'bisulfite sequencing' and its implications on data analyses will be covered. The participants will be trained to understand bisulfite-treated NGS data, to detect potential problems/errors and finally to implement their own pipelines. After this course they will be able to analyze DNA methylation and create ready-to-publish graphics.
By the end of this workshop the participants will:
be familiar with the sequencing method of Illumina
understand how bisulfite sequencing works
be aware of the mapping problem of bisulfite-treated data
understand how bisulfite-treated reads are mapped to a reference genome
be familiar with common data formats and standards
know relevant tools for data processing
automate tasks with shell scripting to create reusable data pipelines
perform basic analyses (call methylated regions, perform basic downstream analyses)
plot and visualize results (ready-to-publish)
be able to reuse all analyses
Workshop Structure and Program
This workshop has been redesigned and adapted to the needs of beginners in the field of NGS bioinformatics. The workshop comprises three course modules.
---
Day 1 (09:00 AM - 12:00 PM)
NGS Technologies
Introduction to sequencing technologies from a data analysts view
Raw sequence files (FASTQ format)
Preprocessing of raw reads: Idea of adapter clipping and quality trimming
Mapping output (SAM/BAM format)
---
Day 1 (01:00 PM - 05:00 PM)
Practical Bioinformatics (with Linux)
Introduction to the command line and important commands
Combining commands by piping and redirection
Introduction to bioinformatics file formats (e.g. FASTA, BED) and databases (e.g. UCSC)
---
Day 2 - 4 (09:00 AM - 05:00 PM)
Introduction to Bisulfite-Seq data analysis
Introduction to Bisulfite Sequencing
Read Mapping (special alignment method for bisulfite-treated reads)
Quality Control
Data Formats (e.g. vcf, bed, bedgraph, bigwig)
Overview Statistics
Tools and Databases (e.g. UCSCtools, BEDtools, UCSC GenomeBrowser)
Visualizing the DNA methylation genome-wide (e.g. Circos Plot, R) or in specific regions/genes (e.g. UCSC, IGV)
From positions to regions: advantages and disadvantages of segmentation, windowing, and smoothing
Identification of Differentially Methylated Regions (DMRs)
Non-CpG Analysis (How to find methylated non-CpGs)
---
Target Audience
biologists or data analysts with no or little experience in analyzing bisulfite sequencing data
Requirements
basic understanding of molecular biology (DNA, RNA, gene expression, PCR, ...)
the data analysis will partly take place on the linux commandline. Is is therefore beneficial to be familiar with the commandline and in particular the commands covered in the Learning the Shell Tutorial
Included in the Course
Course materials
Catering
Conference Dinner
Trainers
Dr. Helene Kretzmer (Max Planck Institut for Molecular Genetics) is working on DNA methylation analyses using high-throughput sequencing since 2011. She was responsible for the bioinformatic analysis of MMML-Seq study of the International Cancer Genome Consortium (ICGC).
Dr. Christian Otto (ecSeq Bioinformatics GmbH) is one of the developers of the bisulfite read mapping tool segemehl and is an expert on implementing efficient algorithms for HTS data analyses.
Key Dates
Closing Date of Registration: November 1st, 2016
Workshop: November 29 - December 1, 2017 (9 AM - 5 PM)
Attendance
Location: PC-College, Stresemannstraße 78, 10963 Berlin, Germany
Language: English
Available seats: 2 (first-come, first-served)
Registration fees:
1298 EUR (without VAT)
Travel expenses and accommodation are not covered by the registration fee.
>> registration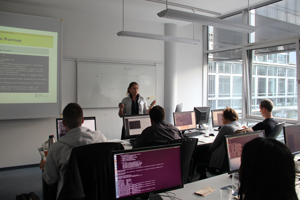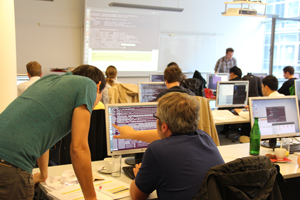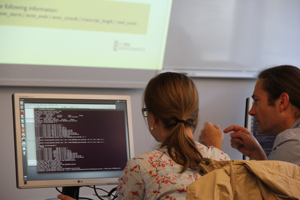 ---
About Berlin
Berlin is a world city of culture, politics, media and science. Its economy is based on high-tech firms and the service sector, encompassing a diverse range of creative industries, research facilities, media corporations and convention venues.Berlin serves as a continental hub for air and rail traffic and has a highly complex public transportation network. The metropolis is a popular tourist destination. Significant industries also include IT, pharmaceuticals, biomedical engineering, clean tech, biotechnology, construction and electronics.