News:
Meet Dr. Giovanni Marco Dall'Olio
18 months ago by
Deutschland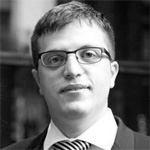 Dr. Giovanni Marco Dall'Olio is a bionformatics investigator at Glaxo Smith Kline (GSK) in Stevenage, UK.
Giovanni studied biotechnology and bioinformatics in Bolognia, Italy. His PhD was focused on human population genetics, in the Evolutionary Biology group at the Pompeu Fabra University in Barcelona and his primary research goal was the development of methods to characterize events of genetic selection in the human genome. After his PhD, he became research associate at a Cancer Evolutionary Genomics's group at the King's College of London, UK. There, he was interested in the system biology of cancer and in identifying new potential drug targets for this disease.
In 2016 he joined GSK, where he became... read more