Question:
How to interpret mutation mapper in CBioportal for mutation?
5.3 years ago by
Korea, Republic Of
Hi all.
I have detected somatic mutation and would like to know its significance for clinical interpretation.
I used MutationMapper in cBioPortal and then got a set of annotated mutations with plot as shown in below.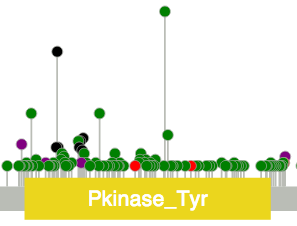 As you can see, there are a protein domains in the plot with yellow color and all the mutations are on its domain.
and my questions is below : 
The segments that do not belong to yellow domains whose color is grey have no meaning for clinically annotating mutation? so I discard it unconsciously?