Question:
python tricks to parse a dataframe
4 weeks ago by
Hi everyone,
I want to create a dataframe from another one using python code. My dataframe that I want to modify look like that :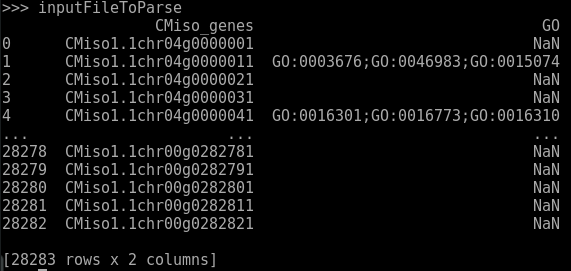 I want to produce from this dataframe : (I take just the first 3 rows of the dataframe to build the exemple)

As you can see I want to separate the Go term per gene in order to build separate goterm list for CC,MF and BP.
this is the function that I start to build but I am block because of the mix of float and string value that not allow to separate the GO column.
sep1="\t"
sep2=","

sepIn=";"

# Read input files
inputFileToParse=pd.read_csv(inputFileToParsePath, sep=sep1)
pivotFile=pd.read_csv(pivotFileForParsingPath,sep=sep2, index_col=0)

# Erasing unwanted column
del pivotFile["level_0"]

# get columns from the input dataframe
inputFileColumnsNames=inputFileToParse.columns

# function
def getListDescGoPerProcess(inputFileToParse,pivotFile,sepIn)
# separate all row if multiple value
if inputFileToParse['GO'].str.contains(';'):
    print("some gene as multiple GO term, it will be separate for the parsing")
    pd.concat([pd.Series(row['CMiso_genes'], row['GO'].split(';'))              
                 for _, row in inputFileToParse.iterrows()]).reset_index()

# Create the 3 output dateframe to save
BPtable=pd.DataFrame(columns = inputFileColumnsNames)
CCtable=pd.DataFrame(columns = inputFileColumnsNames)
MFtable=pd.DataFrame(columns = inputFileColumnsNames)
if

I have not finish the function already because I am block on the lign when I concatenate the sliting of the second colums. But as I said before the function split cannot take in count float value.
Do you have any suggestion to build this dataframe ?
Thanks in advance
ADD COMMENT
•
link
•
modified 4 weeks ago • written

4 weeks ago

by clementpch • 0