Question:
How Much Is Too Much For 5 Prime End Methylation Rate In Rrbs Data ?
6.6 years ago by
The Earth
I have RRBS fastq files. I used Bismark to perform methylation call. After methylation call I got M-bias plot shown below. The methylation rate of first three bases of 5 prime end is quite high. The actual methylation count and rate of first four position is shown below.
My questions are:
Is the observed high methylation rate is because of end repair biases?
In the literature It has been mentioned that it is common to have high methylation rate in 5' end, but how much is too much?
First three bases of RRBS reads are either CGG or TGG depending on their methylation state. Is it good idea to chop off first 3 bases ? If yes, doesn't the removal of C (that retains original genomic methylation state) influence downstream analysis?
CpG context
===========
position    count methylated    count unmethylated    % methylation    coverage
1    5000734    2489532    66.76    7490266
2    430    206    67.61    636
3    190    131    59.19    321
4    34174    79253    30.13    113427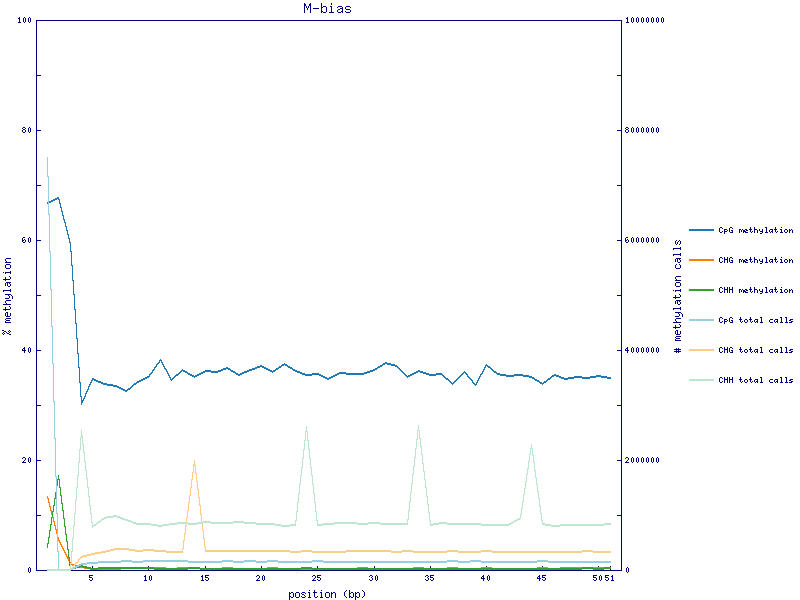 ADD COMMENT
•
link
•
modified 6.6 years ago • written

6.6 years ago

by samsara • 600