Question:
Why my pvalue histogram doesn't have uniform distribution
19 months ago by
China, Beijing, IGDB
Hi my friends, I do a fisher exact test by R, because I think the treatment would not affect the counts and I expect a uniform distribution of pvalue, but the histogram show U shape, with the 0 and 1 show large numbers. The code is as follows, could you please tell me why? Thank you very much!
test<-read.table("sample_fisher_test.txt")
test<-test[rowSums(test[,3:4])>5,]
for(i in 1:nrow(test))
{x<-c(test[i,1],test[i,3],test[i,2],test[i,4])
dim(x)<-c(2,2)
test$pvalue[i]<-fisher.test(x)$p.value}
ggplot(test, aes(x = pvalue)) +geom_histogram(binwidth = 0.05, fill = "lightblue", colour = "black")
dev.off()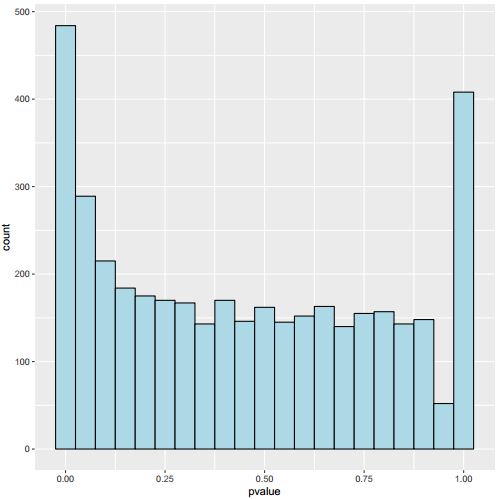 data is available at: https://de.cyverse.org/dl/d/D577D93C-F511-41EE-AC74-26E2B5203564/sample_fisher_test.txt
ADD COMMENT
•
link
•
modified 19 months ago by chrchang523 ♦ 6.6k • written

19 months ago

by afli • 190